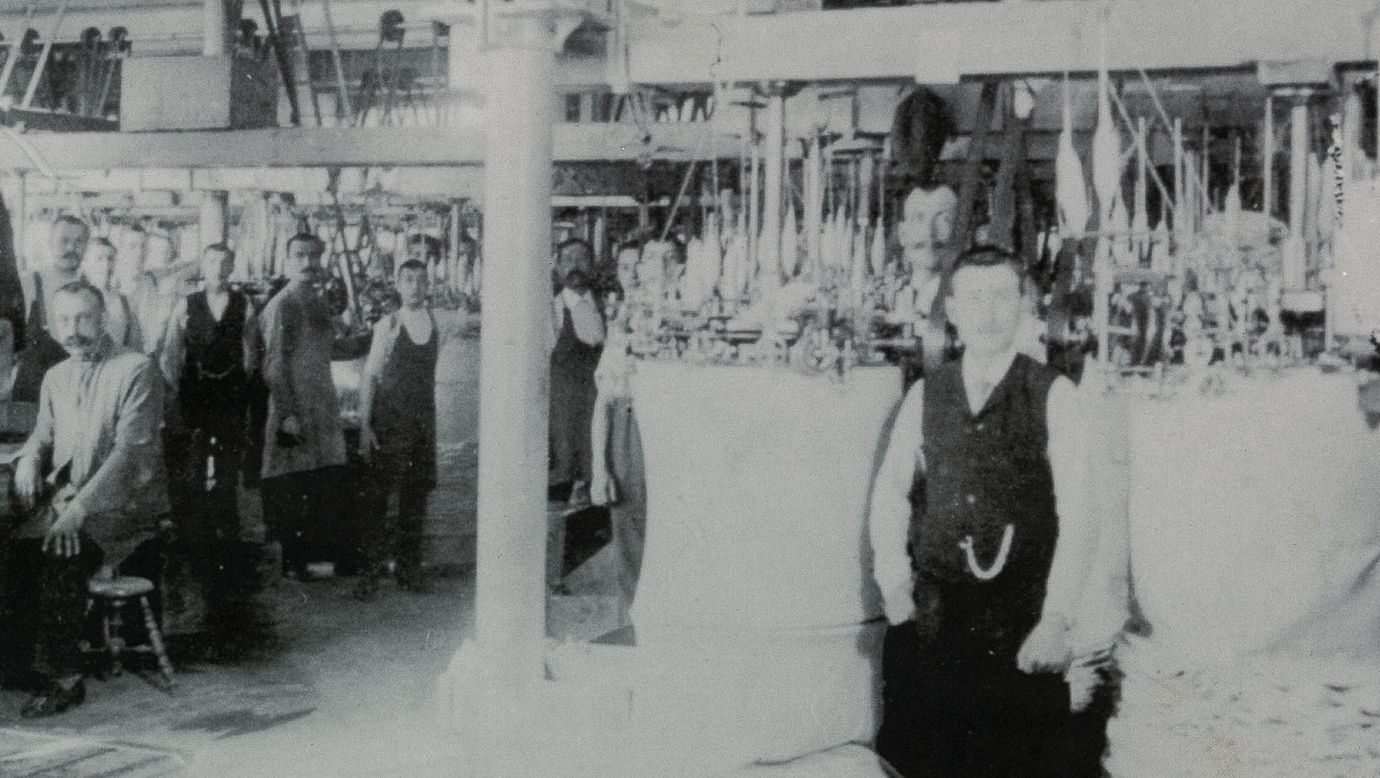 something good and
the swan
The history of Merz b. Schwanen
1911 - Merz b. Schwanen is founded by Balthasar Merz
2011 - The history lives on
A second chance...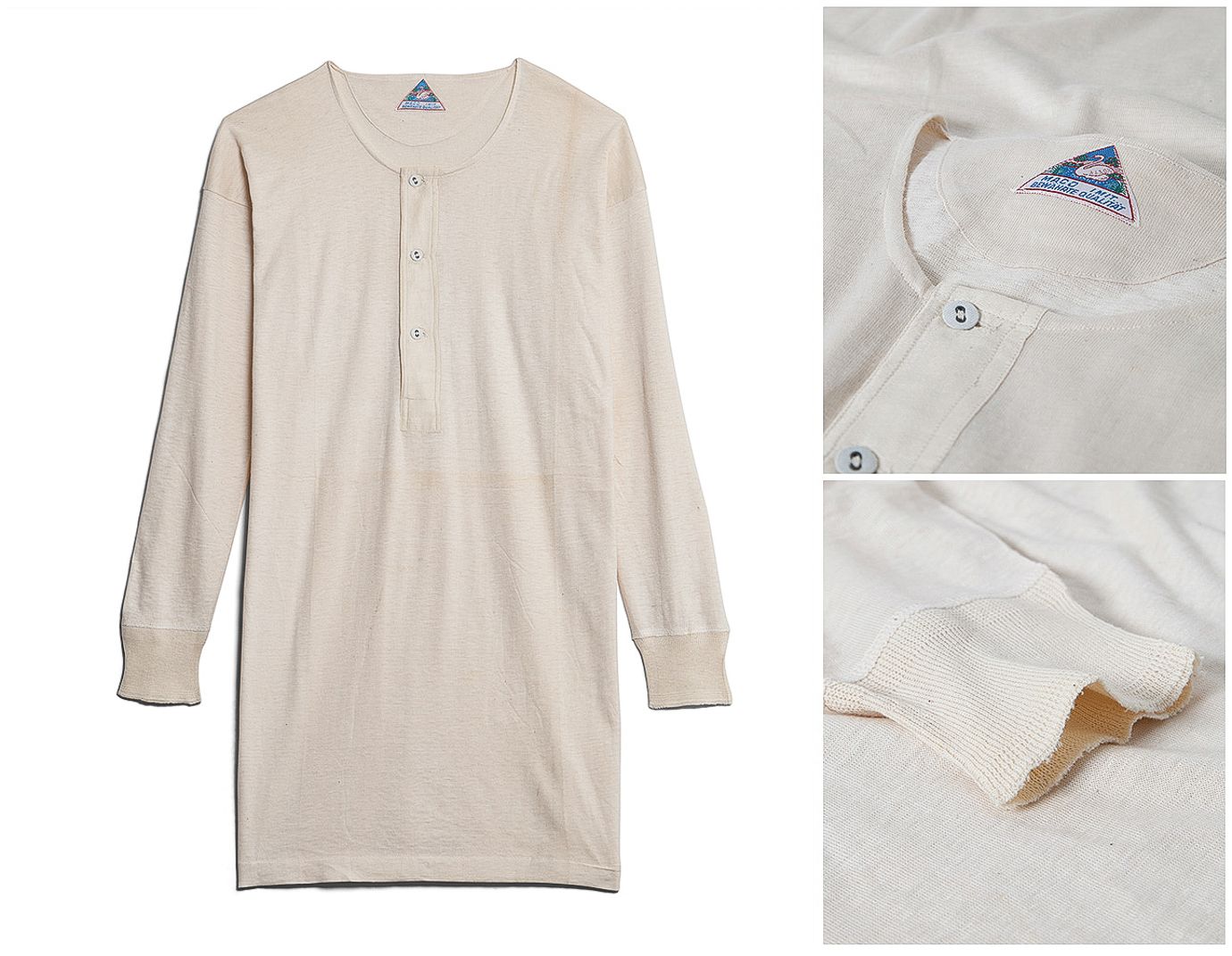 ...with the 'accidental find'
Soft, slightly washed out, natural cotton fabric, old, sometimes battered hampers clad in cloth and a wristband made with different-sized meshes – that was something Peter Plotnicki had never encountered before.

"I was instantly fascinated by the triangular inserts under the arms and the intricate label with its lettering made with fine viscose thread. And on top of it all – no lateral seams." A feeling of happiness overcomes him – he holds an authentic workers shirt made in 1911. Peter Plotnicki, a professional designer and men's tailor, knows instantly that this flea-market-find is a very special piece, destined to alter the course of his life.

A feeling of happiness overcomes him – he holds an authentic workers shirt made in 1911. His wife and businesspartner Gitta Plotnicki is immediately fascinated.
Both designers know instantly that this flea market-find is a very special piece, destined to alter the course of their whole lives.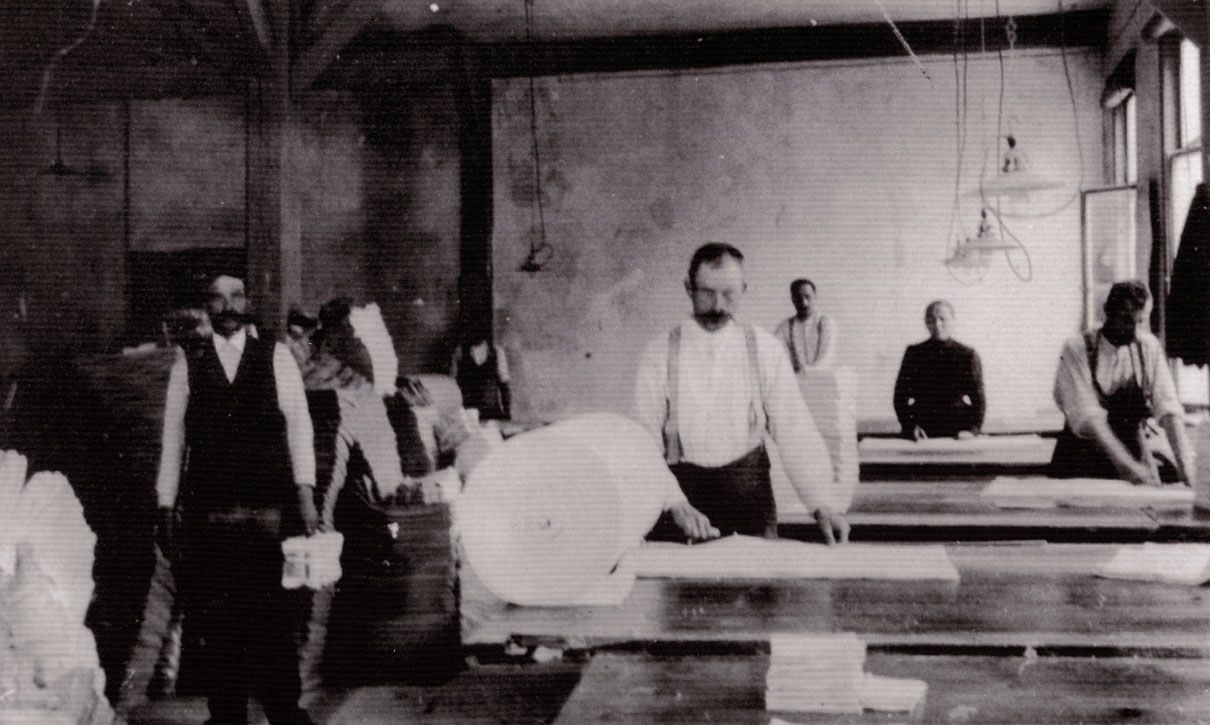 The origins
Driven by a sense of certainty, Peter Plotnicki researches the origins of this extraordinary piece of clothing and uncovers a textile industry over one and a half centuries old, located in the Swabian Jura.

A flea market vendor from Berlin bought the Henley-style longarm-undershirt at one of the last hosiery companies called "Merz b. Schwanen". The company was founded in 1911 by Balthazar Merz and employed more than 2,000 workers over several decades – a rarity in this otherwise very poor region.

Globalization finally ended the success story of the family-owned business three years before Peter Plotnicki found it – the heirs closed the manufactory due to a lack of orders.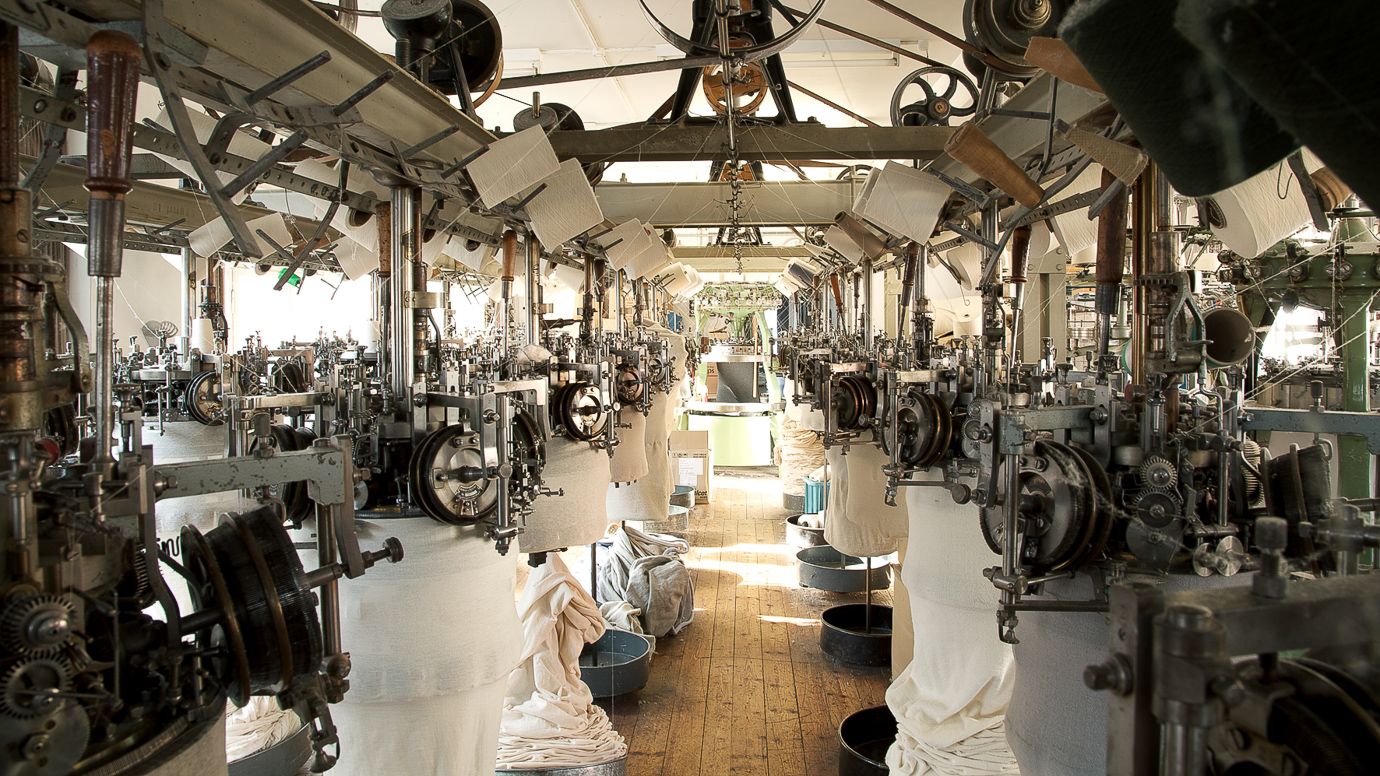 The vision
Touched by the tragic, but sadly very common story of the company, Peter Plotnicki visits the Swabian Alps and meets one of the last textile manufacturers, Rudolf Loder. The latter surprises Plotnicki with a room full of authentic circular knitting machines from the 1920s to 60s – unused, crusted with dust, but completely intact.

"Gitta's and Peter's idea to revive these machines in order to fabricate new, but traditionally made circular knitware, amazed me", said Loder, a "textileist" with heart and soul. Together, the three started to put their vision into practice.

A new chance
Ambition, patience and confidence are key:
The headquarters are established in Berlin where Peter and Gitta Plotnicki have been living for many years. While the two develop the first collections and the distribution strategy and thus lay the groundwork for Merz b. Schwanen, Rudolf Loder tinkers persistently with his old machines in Albstadt.
It takes a whole year to restore the complex mechanical machines. It is a particular challenge to find skilled people to operate these old machines, one the three manage perfectly.

This is, because the project begins to raise dust in the Swabian Alps – especially Balthasar Merz' descendants are intrigued by the entrepreneurial vision. They offer Plotnicki their old brand name "Merz b. Schwanen"

"I was thrilled. Suddenly, we held more than a century of company history in our hands. We couldn't have wished for better support and a more effective motivation", Plotnicki said.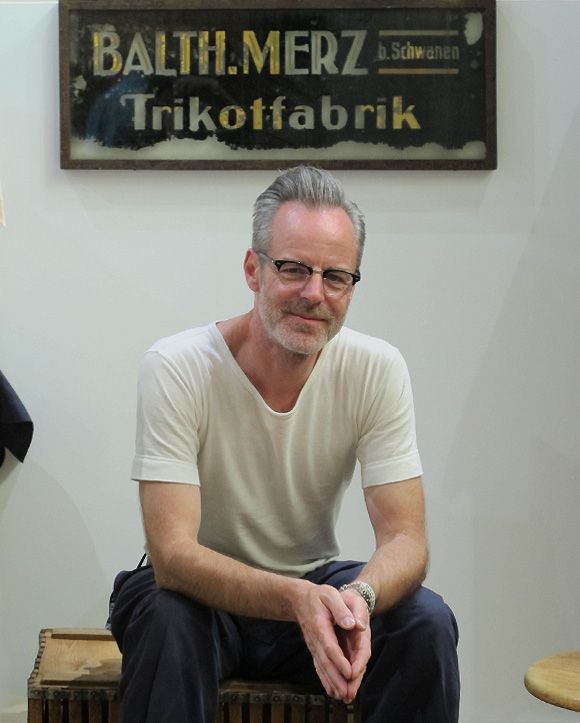 The tradition lives on
In January 2011, right on time for the company anniversary, "Merz b. Schwanen" presents its first new collection at the international fashion fair "Bread and Butter" in Berlin. The idea to use authentic worker's clothes from the 20s, 30s and 40s as model and inspiration and blending them with a modern design is an unbelievably huge success.

Gitta & Peter Plotnicki say: "We are continuing the story of "Merz b. Schwanen", with modern designs and new fabric blends – always developing new styles, created with respect to the rich heritage of the brand."

Since then, T-shirts, sweatshirts as well as pants, underwear, socks and -accessoires have been added to the collection. All is manufactured with a lot of experience and passion in reliable, family-owned businesses - and made with good and sustainable as well and animal friendly materials.
And the swan?
It is a symbol of energy, pureness, and freedom. But also because it represents an end followed by a good new beginning...