sustainability & social responsibility
Look good, feel good, do good - it's all about Merz b. Schwanen. Ever since the beginning of Merz b. Schwanen a century ago and nowadays sustainability & social responsibility are one of the core aspects of our philosophy.
Aiming to contribute to a greener future, we are moving with our long-termed principals of social, ethical and environmental responsibility which is reflected in all steps of production: from the choice of materials through the whole value chain till the careful eco-packaging and more.
Striving for more transparency, we believe you deserve to know what you get and where the good textiles we make come from.
No empty words! Take a further look now: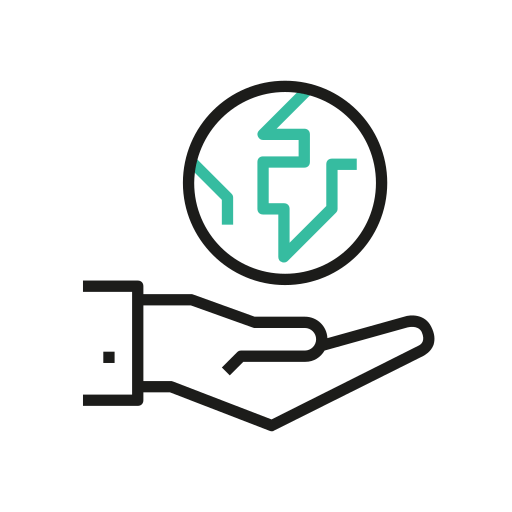 good MATERIALS
Gitta and Peter Plotnicki, known for their passion for details, first of all, are paying close attention to the choose and use of natural materials and their regular quality controls. All materials used for manufacturing meet premium standards. Moreover, we ensure that socially, ethically & environmentally responsible products are equally important for our suppliers as it is for us.
Did you know that preferring a T-shirt from organic cotton you save over 430 liters water? And this is only one t-shirt!
Biologically farmed land also has the ability to reduce highly climate-damaging greenhouse gas, methane, through oxidation and microbial transformation in the atmosphere.
WHAT DOES ORGANIC COTTON MEAN?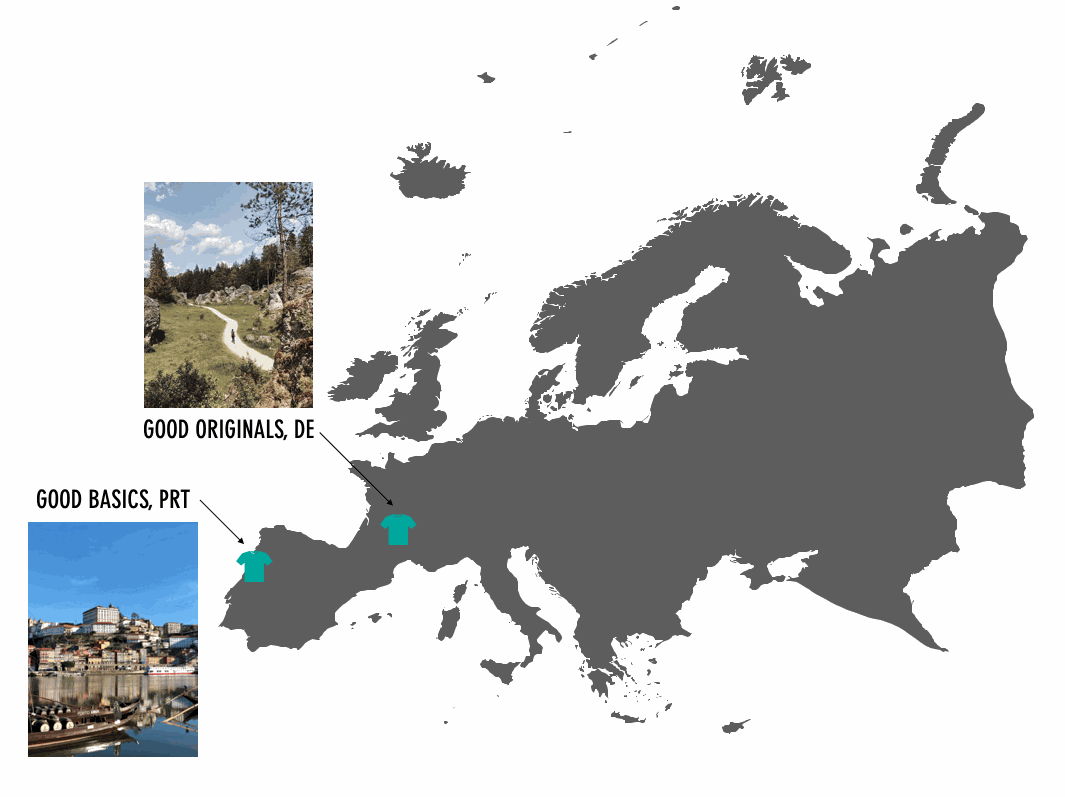 good production
Centralization is one of the main focuses of our sustainable way of production. It's about saving transportation ways, reducing CO2-emissions and thereby keeping the ecological footprint as low as possible. What's more, it concerns both production points: Germany and Portugal, in which value chains are both located in radiuses of a few kilometers. From the first till the last step of fabric production - all happens within this small area.
To notice: Over 30 machines, which produce GOOD ORIGINALS, are driven by only one small electric motor, which means that the production requires very little electricity.
In addition, our knitting factory uses green electricity, so that the production does not pollute or damage the environment.
By the production of our textiles, huge attention is also focused on the avoidance of chemical equipment and using natural dyes.
good people
What's a production without the people giving their best every day?
To us, it's obvious to set a value on pleasant, attractive and fair working conditions for all workers. We are happy about the long-termed, trusted cooperation with our partners. The good working atmosphere is not to be underestimated and is felt throughout all production facilities and of course in our Berlin Headquarter.
The social aspect is for example especially felt when it comes to threading the hang-tags which are made by ZAW, a service provider for people with disabilities.
good details
We also attach importance to sustainability in our details. Be sure, your Merz b. Schwanen purchase is carefully packed in a recycled cardboard box.
In the case of poly bags as a reasonable packaging option, we make sure that those are fully recycled and recyclable. Also, our labels are not made with polyester but with viscose thread.
Fun fact: Even the adhesive tape, which keeps the poly bags closed, is made from recyclable materials.
GOOD CARE
If you're asking yourself, how to take care of your Merz b. Schwanen garments properly, no worries - we have the answer.
We have developed our very own washing detergent, which is extremely fiber- & skin-friendly and totally based on natural ingredients. We care about the longevity of your garments. Either for cotton clothes or for woolen knitwear: to launder your textiles gently.
Have a look at our wash & care tips here on our website.
GOOD RECYCLING
Every piece matters! We don't neglect our materials. The textile wastes & remnants are collected and recycled by a local company, which also uses renewable energy.
Last but not least: Don't rush to throw away your old T-shirt!
According to the estimation of the European Commission, the EU textile industry only generates around 16 million tonnes of waste per year, most of which end up in landfills or incinerators.
Remember, there are a lot of great possibilities to give your clothes a new life.
GOOD COMMUNICATION
Let's stay in touch!
Stay updated about our participation in trades and festivals and come say "Hello"! Experience personally how good our products feel.
We are always proud to be a part of the big community which stands for change, development and a responsible future of sustainable fashion.
If you have any further questions, we're happy to assist you. Just send us an e-mail or give us a call.